Assemblage, Collage, Encaustic, Printing Exhibition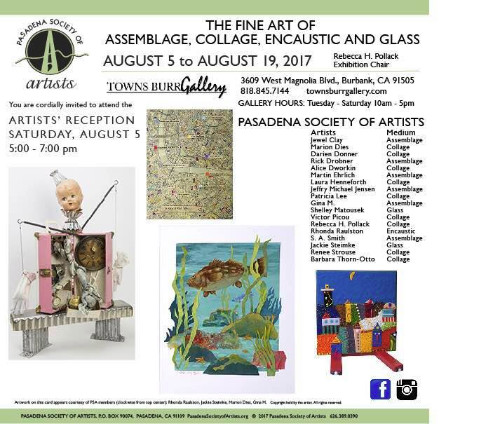 July 10, 2017
Pasadena Society of Artists presents The Fine Art of Assemblage, Collage, Encaustic and Glass Exhibition opening Saturday, August 5, 2017 at Towns Burr Gallery located at 3609 West Magnolia Blvd. in Burbank. Exhibition Chair Rebecca H. Pollack has curated an exhibition of 18 members presenting 33 new and exciting artworks created with unusual techniques.
Artists presenting Assemblage include Jewel Clay, Rick Drobner, Martin Ehrlich, Jeffry Michael Jensen, Gina M., and S. A. Smith.
Artists presenting Collage are Marion Dies, Darien Donner, Alice Dworkin, Laura Henneforth, Patricia Lee, Victor Picou, Rebecca H. Pollack, Renee Rusak Strouse and Barbara Thorn-Otto.
Rhonda Raulston is presenting artwork created in Encaustic.
Shelly Matousek and Jackie Steimke are presenting artwork created using Glass.
Meet these established artists at the Opening Reception Saturday, August 5, 2017 5 pm to 7 pm. Refreshments and hors d'oeuvres will be offered.
The exhibition remains open from Saturday, August 5 through Saturday, August 19, 2017.
Gallery hours are 10 am to 5 pm, Tuesday – Saturday.
For additional information please contact:
Rebecca H. Pollack
Exhibition Chair
Pasadena Society of Artists
Tel: 323.333.5010
Email: Exhibitions@PasadenaSocietyofArtists.org
Towns Burr Gallery
Connie Towns Burr
Gallery Director
Tel: 818.845.7144
Email: townsburrgallery@gmail.com
Image Information:
Marion Dies Calico Bass Collage
Gina M. Ever After Assemblage
Rhonda Raulston A Map of Odd Habits Encaustic
Jackie Steimke Whimsey Dorf Glass